Recognition & Awards
School Food Service Awards 2016
The Executive Committee of SNA-VT is pleased to announce that nominations are now being accepted for the fourth annual SNA-VT and Hunger Free Vermont School Nutrition Awards. The five award categories including a brand new award for outstanding administrative leadership are as follows:
Award #1

Serving Up Excellence

For Supervised School Food Service Staff.

Award #2

Outstanding Achievement in Child Nutrition

For School Food Service Directors/Managers


Award #3

School Nutrition Innovation & Advocacy

For any School Food Service Personnel

Award #4

Child Nutrition Administrative Leadership Award

For School Food Service Excellence
We are asking for your help in identifying and nominating outstanding personnel in your school!
SNA-VT's overarching goals are improving the image of school food service personnel, embracing the evolution of professionalism in school nutrition programs and advancing the role of nutrition in student academic success. In recognition of these goals, SNA-VT has established annual awards for excellence and achievement in school nutrition, and will present the awards at this year's Annual SNA-VT Meeting and conference, taking place on October 16 at Stoweflake in Stowe, VT.
We invite you to make nominations for these awards. This is your opportunity to recognize the dedication and hard work of your staff, or of a colleague. We hope these awards will also encourage everyone's attendance at the conference. New Deadline for Awards is August 31, 2105.
SNA Awards Program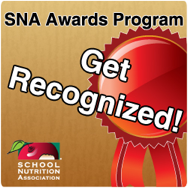 Through the SNA Awards Program, SNA celebrates and recognizes every-day heroes: school nutrition professionals who work every day to ensure well-nourished students across the country are prepared for success! The SNA Awards Program has been revamped and now features easy-to-understand names, new prizes, streamlined rules, and for the first time ever, you can now nominate a deserving colleague online. Awards include:

Nominations are due online or to the State President by March 1, 2015. Find out more and nominate someone you know at www.schoolnutrition.org/awards.
2015 Award Recipients
Serving Up Excellence Award: Bonnie VanFossen, South Royalton School and Jackie Holzworth, Orwell Village School
Outstanding Achievement in Child Nutrition Award: Jaca Hughes, Jamaica Village School
School Nutrition Advocacy Award: Dave & Donna Miles, Woodstock Elementary
Child Nutrition Administrative Leaders Award: Herve Pelletier, Principal, Putney Elementary School